The Villages at Ben White - Pool
Austin Apartments with a Pool
The severity of summers in Texas might inspire you to look for Austin apartments with a pool so you can cool down from the hot days without ever leaving your community. The Villages at Ben White is a 55+ rental neighborhood designed to suit the needs of those looking for a calmer lifestyle with easy access to shopping, travel routes, and nature getaways. One of the bigge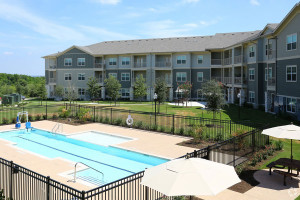 st advantages, however, is the pool access that will keep you calm and collected all season.
If you're interested in the idea of sitting poolside and enjoying the sun or taking a dip into the cool water to work on your aerobics, you can easily do so at The Villages at Ben White. Plus, you can rest easy knowing that you can relax while spending time at the pool since the rest of the residents are 55+ and more than likely looking for the same peaceful atmosphere. With walking paths close to the rental community, you can get your exercise then come back home to cool off by the pool without worrying about long or tedious travel time. Many people have to pay extra for an amenity like this, but since this community is focused on its tenants' comfort, you won't have to search any other Austin apartments with a pool to find your perfect home.
Another great benefit is the space around our pool. You can work on your sunbathing or if you're looking to socialize and visit, you can gather around in one of the many tables nestled nearby. Bring lunch down and stay cool underneath the umbrella, or simply enjoy the weather with a good book. If you're interested in an even larger gathering that's still close to the pool, The Villages at Ben White also has a courtyard with supplied grills and a picnic area. Bring your family for the next summer gathering and enjoy all the benefits of living in an Austin apartment with a pool. Since it's easy to get to and has tons of amenities, you can be sure that you'll be hosting many guests in this senior-friendly rental community, giving you the best of both worlds.
To learn more about our Austin apartments with a pool, or to schedule a tour of The Villages at Ben White, contact us today!